ALUMINIUM EXTRUSION PROFILES
Aluminium Extrusion Process
The aluminium extrusion process shapes aluminum by heating and forcing through a shaped opening in a die. When extruded, the hot aluminium profiles will be quenched, cooled, straightened, and cut. This process enhances the properties of aluminum alloy and results in aluminium extrusion in a final product.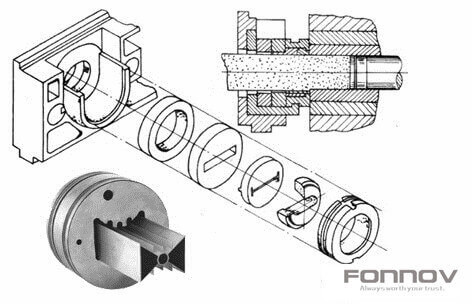 RELATED REFERENCE:

Extrusion Die Openning That You Should Know
Uses of Aluminium Extrusion Profiles
The natural characteristics of aluminum allow it to be extruded into complex shapes, providing engineers and designers with limitless design possibilities. So aluminium extrusion profiles can be applied in many industry areas. FONNOV ALUMINIUM classify this into some primary application industries: window and door, accessories for window and door, roller shutter, louver, handrail, railing, and fencing, led lighting, curtain wall, heat sink, cabinet, vehicle, airplane, enclosure, and more.
Finishings For Aluminium Extrusion Profiles
Nearly 70% of aluminium profiles are in the architectural and building industry, like window and door, facade, interior decoration, furniture, etc. These extrusions generally are with aluminum alloy 6063 and 6060 but are mostly emphasized on surface finishing for decoration. For different appearance, colors, and weather resistance, FONNOV ALUMINIUM classify the surface finishing into anodizing, powder coating, wood grain finish, PVDF coating, and water-based painting.
Click Surface Treatments to find the surface finish that you like for your extruded aluminum products.
Alloy of Aluminium Extrusion Profiles
30% of aluminium profiles are in many different industrial areas, which is a wide and large range, and we call it general engineering. Most of these extruded profiles request mill finish or anodizing, just getting a general weather-resistance. They emphasize the mechanical properties of aluminum material that can meet application requests. Different aluminum alloy and temper is with the different mechanical property. There are 6060, 6063, 6061, 6082, 2A12, 2024, 5052, 7075,etc. FONNOV ALUMINIUM classifies these aluminium profiles for general engineering clients.
Tolerance of Aluminium Extrusion Profiles
When the engineer sends us the aluminium profile drawings, hoping that we can produce the aluminium profiles accurately meet all the dimensions in the drawings. From the design to the final aluminium product, there are many processes, including die production, extrusion, machining, and even aluminium processing and surface treatment. Changes in size and mechanical characteristics are inherent in the manufacturing and processing of aluminium extrusion products, which is something that users need to understand. Therefore, the National Standards of aluminium extrusion products emphasize the reasonable tolerance range of each size during production. Our aluminium profiles for architectural use are produced and inspected in accordance with GB/T5237, our profiles for industrial use are produced in accordance with GB/T6892, and our extruded aluminium bars are produced in accordance with GB/T3191. These National Standards all specify its request on tolerance.
It is impossible to manufacture extruded aluminium that is exactly the same size as the drawings. It is the key to satisfy the final application and assembly of the product. Tolerance is something that must be confirmed with users before extrusion production. The size range required by the user may not be workable in actual production, but we have always tried our best to work with the user to check the drawings to ensure that the tolerance is workable for both real usage and actual production capacity.
Any request of Aluminium Extrusion Profiles, leave us to message ONLINE or EMAIL at [email protected].