8020 Extruded Aluminum
▹DESCRIPTION: 8020 Extruded Aluminum 80*20mm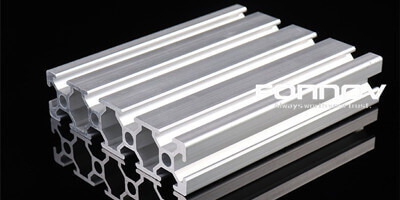 ▹BRAND: FONNOV ALUMINIUM
▹PROFILE NO.: FA-DH8020
▹QUALITY STANDARD: GB/T 5237
▹ALUMINIUM ALLOY: 6063
▹TEMPER: T5
▹SURFACE TREATMENT: clear anodizing with natural color and black anodizing
▹LENGTH: As per request (6M as standard)
▹PACKING METHOD: antistatic film & shrink film
▹PLACE OF ORIGIN: China
▹STOCK OR NOT: stock is not available
▹USE & APPLICATION
8020 extruded aluminum is a 80mm x 20mm slot profile with ten open slots. The open slots enable access from any direction and are useful for mounting accessories. It is one of the most popular frame materials, it is a very practical structural framing systems, you can use this 8020 extruded aluminum quickly produce various frameworks.
8020 extruded aluminum is good for most projects.  It is mainly been used in 3D printers, CNC engravers, furnitures, routers, machines, camera sliders, plasma cutters, robotics, and much more. You are the creator for a DIY work.
You can cut it with a saw and the rest is as simple to make the connections.
Click  FAQs For Commercial Terms and Technical Supports.
For production and stock information on 8020 Extruded Aluminum products, please contact us for details:
EMAIL: mark[email protected] | WECHAT: fonnov | WHATSAPP: +86 13395228957
▹OPTIONS IN DIMENSION
| in MM | | | | |
| --- | --- | --- | --- | --- |
| 20*20 | | | | |
| 30*30 | | | | |
| 40*20 / 2040 | 40*40 | | | |
| 45*45 | | | | |
| 50*50 | | | | |
| 60*20 / 2060 | 60*30 / 3060 | 60*40 / 4060 | 60*45 / 4560 | 60*60 |
| 80*20 / 2080 | 80*40 / 4080 | 80*80 | | |
| 90*30 / 3090 | 90*45 / 4590 | 90*90 | | |
| 100*50 / 50100 | | | | |
| 120*40 / 40120 | 120*60 / 60120 | | | |
| 150*30 / 30150 | | | | |
| 160*40 / 40160 | | | | |
| 180*15 / 15180 | | | | |