Fonnov is invited as professional visitor to CHINA INTERNATIONAL IMPORT EXPO. in Shanghai.
National Exhibition and Convension Center (Shanghai)
The 1st CHINA INTERNATIONAL IMPORT EXPO is held in Shanghai in November 5-10, 2018.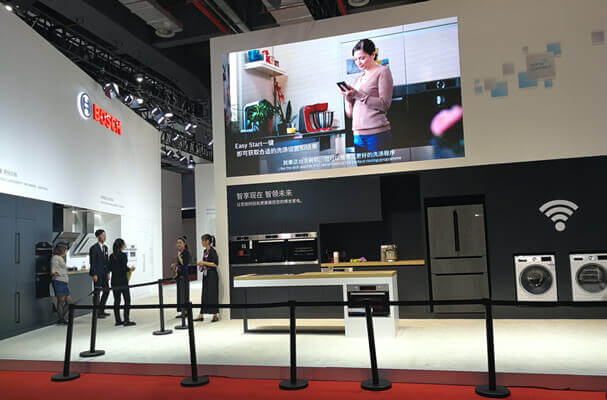 In the CONSUMER ELECTRICS & APPLIANCES show hall, you can find mobile devices, smart homes, smart home appliances, virtual reality and augmented reality, video games, health sports products, audio products, video and HD devices, life technology, display technology, online and home entertainment products.Brands covering Panasonic, SONY, SAMSUNG, BOSCH, INTEL, A.O.Smith, Rinnai, BenQ, Blueblue, FOXCONN, SIGMA, 3M, Whirlpool, etc.
W-series kitchen appliances – WHIRLPOOL
The new W-series kitchen appliances are connected to the 6th sense of intelligent cooking technology. Record the user's common habits, automatically store and accumulate the user's favorite recipes and cooking methods according to personal preferences, customize the application scene, and automatically jump out related recipes. Users only need to prepare ingredients according to the recommendations, and then select the corresponding recipes to enjoy. How long cooking, how many degrees of insulation, the machine will be completed automatically, is a true time-saving and labor-saving wisdom technology.
High-end Intelligent Appliance – Panasonic
In terms of home appliances, Panasonic shows the audience a smart kitchen, high-end bathroom products, beauty products, and ALPHA washing machines designed with Porsche. At the same time, Panasonic also launched the first domestic concept product using "55-inch transparent organic "EL" and "FHD" technology – transparent OLED TV. When the power is off, it is like a piece of ordinary transparent glass, it can decorate the home space with other decorations together, it can also be used as a shelf, through the transparent OLED display, the decorations placed on the shelf are clearly visible. When the power is turned on, it becomes a clear, colorful TV. Provide consumers with a pleasant audio-visual enjoyment.
Intel Core i9-9900K processor – INTEL
International processor giant Intel is presenting a new generation of client devices based on the world's leading performance game processor. The biggest highlight is the Intel Core i9-9900K processor that was released globally last month. The powerful performance of the i9 processor also provides performance guarantees for virtual reality games, and many viewers queue up to experience VR games.
5G chip – SAMSUNG
Samsung has set up six exhibition areas for display products, mobile electronic products, semiconductors, automotive interconnection, smart home, and system solutions, and has displayed many cutting-edge technology products. Samsung's first 5G chip, the Exynos Modem 5100, was launched in August this year. The 5G speed is much faster than 4G.